Hello everyone,
I went on a vacation for 10 days...it was awesome...
I am back...feeling fresh and lively...and ready to share a card...
Usually when I case a card...I CASE the sketch....but this time I CASEd the elements and the style of this card by Vicki...
I took the following elements from this stunning card:
1. The diagonal black stamping in the background
2. The pop of blue colour
3. The vellum for the sentiment
This is my interpretation of the card->
I have used vellum over the sentiment instead of under it...
I have used the STAMPlorations Party Time set for the stamping on the background...
I am entering this card in the following challenges:
CASEd Vicki's card->
Stamping on background->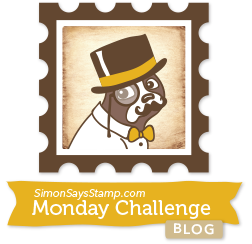 Used STAMPlorations stamps->